Covid-19:

We are sorry to announce that due to the global pandemic with its rules for hygiene in a working environment, we have decided to cancel this year's SSDW. We did not feel confident in being able to provide a workshop that would have the same kind of team spirit, dynamic and enthusiastic environment that we pride ourselves in providing for our participants.
We are optimistic to organize a SSDW 2021 with the same standards as we have had in the past.

For now we hope you are all staying healthy and safe and we hope to see you next year!

When?

2021

Where?

Institute of Space Systems, University of Stuttgart, Germany

Who?

Students and young professionals from all disciplines and all nationalities!

What?

Design a crewed space system and mission in a hands-on workshop environment
Experience systems engineering, project management, and team organization
Use advanced concurrent design methodology and customized software tools
Be part of an international and interdisciplinary team

What do you need?

English language skills
Interest in human spaceflight
Ability to work and communicate in an international, multidisciplinary team

How much?

The workshop itself is free of charge
Application
The application period will be announced as the week of the workshop got fixed.
Mission Scenario
The mission scenario will be announced with the beginning of the SSDW 2021.
Latest SSDW Supporters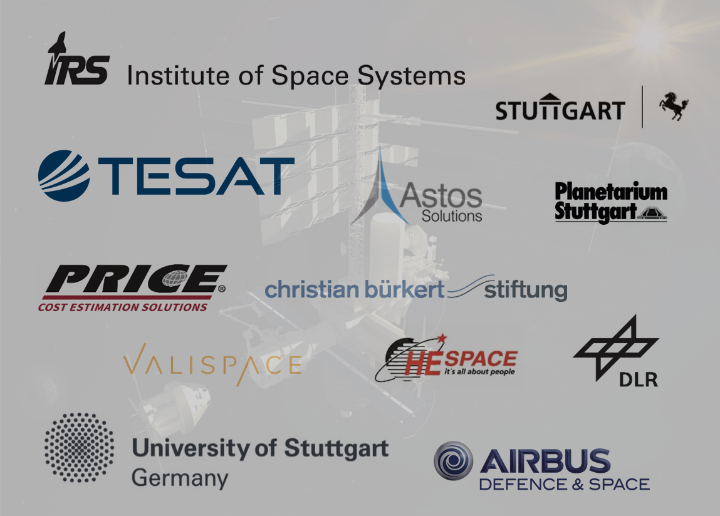 Tools
The tools used for the SSDW consist of custom-developed software dedicated to space mission conceptual design and simulation as well as commercially-available, general-purpose software. Together, they allow for intuitive development and iterative assessment of the space mission design.
SSDW Positions
Attitude & Orbit Control:
Every spacecraft needs an attitude & orbit control system. For instance, this system assures correct payload pointing during operations and thruster alignment for propulsive maneuvers. You will need to understand how control systems works and what sensors and actuators are used for this subsystem to design a functional concept.
Communication:
Astronauts want to be able to communicate with mission control and relatives on Earth. In addition, science and housekeeping data should be transmitted. The communication subsystem position will be tasked to design a communication system that can offer the needed data transfer rates for the mission with state of the art technology systems.
If you thought communication is referring to social networking, you might want to have a look at the Journalism position.
Electrical Power System:
Without power nothing works - especially in space! This subsystem is vital to guarantee the safe conduction of a mission. Solar cells, fuel cells, batteries and more should be your main interest. This concept needs to allow for the survival and safe functionality of the spacecraft to reach the main mission goals.
Entry, Descent and Landing:
If we want our astronauts to return safely to Earth or land on another celestial body, the spacecraft and inhabitants have to survive the landing. This is one of the most challenging and critical parts of a space mission. Your task will be to come up with a feasible concept to face these challenges.
Human Factors:
As space missions are strenuous for human bodies from physiological and psychological points of view, you will be tasked to create a safe and healthy environment for the crew, where astronauts can be happy and productive.
Journalism:
Are you passionate about space, but you never fully understood the mathematics behind it? Then this is your position. You will need advanced English reading and writing skills, artistic creativity and a knack for social media platforms.
Life Support Systems:
As you can't take your home planet with you when you travel through space, you have to create your own survivable environment. The life support system has to guarantee the functionality of all subsystems involved to assure the availability of vital elements as breathable atmosphere and food to support the crew members during their mission.
Mission Analysis:
An important part of mission analysis is the determination of the desired orbit. As several other subsystems expect information about the orbit from the mission analysts, a good general knowledge of space missions is preferable. Possible outputs for other subsystems are the visibility of celestial bodies of interest such as Earth, Moon, Sun, etc. and/or of specific ground stations on Earth, the amount of required propellant for an orbit transfer and many more.
Project Management:
Are you an organizational talent and do you know how to lead a team with strict time constraints to achieve a common goal? Then this is the job for you! A general knowledge of space subsystems and space missions as well as cost and risk analysis are an advantage.
Propulsion & Transport:
3,2,1- and we have lift of! Exciting words for the start of every space mission. But how do you decide which launcher to take? How many launches do you need to get your equipment and astronauts safely to your desired point of interest in space? These are questions you will need to answer if you want to be responsible for this subsystem.
Radiation:
As we all know space is a hostile environment. Radiation shielding is one of the big topics for long term missions outside the Earth magnetic field. Your task will be to assure adequate protection for the astronauts during all phases of their mission.
Robotics & EVA:
Have you always dreamed of building Mars rovers? The Robotics & EVA position will need to come up with concepts to help the crew achieve their mission with the help of autonomous systems.
Structure & Aerodynamics:
Nothing works without structure! You will literally be tasked with designing the space stations main structures.
Systems Engineering:
Do you like budgets? Do you like making trade-offs? Do you like keeping track of the progression of a project? Can you come up with quick solutions for complicated problems that affect all subsystems? Then this is the task for you!
Thermal Control System:
Major temperature differences within short distances / time periods are typical for the space environment. A thermal control system is needed for astronauts and electronic components to survive. You will be in charge to design an reliable and adequate system.
Past SSDW Workshops
History
Starting 1996 student workshops with international participation were held at our home campus, at the Institute of Space Systems (IRS) of the University of Stuttgart, as well as the European Space Research and Technology Centre (ESTEC) in Noordwijk, the Netherlands, "Ecole Nationale Supérieure d'Aéronautique et de l'Espace" (Supaero) in Toulouse, France, at the International Space University (ISU) in Strasbourg, France, and at the University of Sydney in Sydney, Australia.

These workshops have the primary objectives of giving the participating students the opportunity
to learn and practice systems engineering and design on a space related subject,
to directly apply the knowledge acquired during the space station lectures and related lecture series, and
to participate in an international and multidisciplinary team-based design project.
As a consequence, the participants should not only be knowledgeable about space stations and human space exploration in general, but they are also expected to fully commit themselves to their tasks during the workshops, in order to play a valuable role in their respective design teams. Another important factor for the success of an integrated SSDW design team is that all members are open-minded towards other cultures and personalities. Social competence becomes as important as a good knowledge of technical issues.